Hand-made Drums
Drum Brothers Drums is a family business located in the Rocky Mountains in Arlee, Montana. As well as drum makers, we are musicians, performers, and educators committed to spreading the joys of music and the spirit of community, important aspects of a healthy fulfilled life.
Through our journey into rhythm, we've become aware not only of the great enjoyment experienced through drumming and the expression of sound, but also of their healing and transformational potentials. Drum Brothers is glad to help you experience and explore the rhythms that connect us to ourselves, to each other and to the earth.
- David, Matthew, and Michael Marsolek, and Tracy Topp
*Drum Brothers does not support the use of endangered or rainforest woods.*
Frame Drums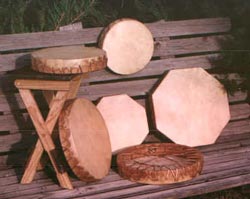 SIZE

PRICE

ITEM #

13 inch

$135.00


FD13

15 inch

$175.00


FD15

18 inch

FD18

20 inch

FD20

24 inch

FD24
Found around the globe in its many incarnations - as the tar of the Middle East, the bodhran of Ireland, the medicine drum of the Laplanders, or the hoop drum of the North American Indians - the frame drum is very easy to play and has a penetrating resonant sound.
This versatile drum can be played with the hands or fingers, struck with a beater, resonated with the voice, or even rubbed to create whale-like sounds.
Drum Brothers Frame Drums are uniquely constructed with one-piece western red cedar or pine frames and deer hide heads and lashing. A leather or fleece headed beater and care instructions come with each drum. And we can also make octagonal frames.
Audio Samples
Shamanic Pulse Sample mp3
(18" Frame Drum playing 200 beats per minute)
Shamanic Pulse mp3
(10:51 minutes of Shamanic Drumming, 18" Frame Drum playing 200 beats per minute)
"By purchasing DRUM BROTHERS DRUMS you receive a high quiality product, at a reasonable price. Due to their deep tones, the frame drums are our most popular model. DRUM BROTHERS product support and cheerful attitude make working with them a pleasure." - Cristi Fairbanks; manager, CRYSTAL MAGIC; Sedona Arizona
Djembes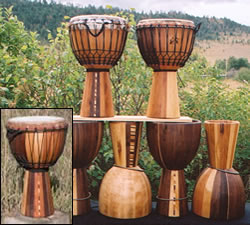 | | | |
| --- | --- | --- |
| SIZE | PRICE | ITEM # |
| 13.5" x 24" | $450.00 | DH14 |
NOTE: All Drum Brothers Djembes come with our custom-made non-stretch djembe cord.

One of the most powerful drums in the world, the djembe has the dynamic range and versatility of sound that the committed hand drummer needs. With a variety of tones - from a slap that cracks to a resounding bass - this drum is ideal for the soloist, ensemble player, or drum enthusiast.
Drum Brothers Djembes have a unique lightweight composite construction made with kiln-dried Midwestern hardwoods. Our design insures stability and harmony of form and quality of sound.
The traditional goblet shape of the djembe causes an acceleration of the sound as it moves through the drum body, creating the amazing range of volume and expression unique to this drum. Each drum has a goat skin head and is laced with a strong multi-filament braided rope.
This diamond patterned lacing makes the drum tunable. (Click here for simple tuning instructions.) You may customize a drum by choosing the ring and rope colors and available hardwoods. If you have any questions about djembes, contact the drum maker!
Djembe Sample mp3 (Matthew playing "Madan" on a 13.5"x24" Djembe).
Learn more about djembe drumming! Check out our World percussion CDs and the Grooves Rhythm Book !
Dunun Drums
aka: Djun djuns or Doun Douns
Drum Brothers dununs have a light weight western red cedar stave construction with split steer hide heads and non-stretch djembe cord.
Traditionally, dununs are played horizontally with two sticks and a bell mounted on top. Many drummers -- such as Abdoul Doumbia from Mali -- also play multiple dununs vertically in the "ballet" style. Drum Brothers build cedar dununs in four sizes and offer both horizontal and vertical stands. Click here for more info about our stands (at the bottom of the dunun page).
It's exciting to see the ever growing interest in dunun drums among seasoned djembe and ashiko players and students of West African music. Drum Brothers dununs have been played by Abdoul Doumbia, Joh Camara, Babatunde Olatunji, Randy Armstrong (of Uno Mondo) and others nationally, and we perform with a set of four in our own ensemble.
These dynamic drums can also be tuned to one another. Click here for tuning instructions.
Dununba Sample mp3 ("Madan" played on a 14" Dununba)
Sangban Sample mp3 ("Madan" played on a 12" Sangban)
Kenkeni Sample mp3 ("Madan" played on a 10" Kenkeni)
Notice that in the Madan rhythm, each dunun drum plays a different pattern.
SIZE

PRICE

ITEM #

Kenkeni


10" x 16"


$267.00


Dunun

15" x 20"


Dununba


A set of beaters and tuning instructions are included. A two, three, or four drum vertical stand is available for Dununba, Sangban, and Kenkeni combinations.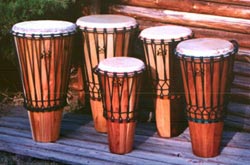 NOTE: Larger drums can be built. Call Drum Brothers to inquire. Lacing diagram included.
Ashiko Drums
A very popular hand drum, the Ashiko is available in a variety of sizes and wood types, including strong, lightweight western cedar. These acoustically tapered drums have an expressive voice that is comparable to the djembe with a singing edge tone and a full bass.
Like all or our hand drums, it is durable: the adjustable lacing and binding rings give the shell extra strength. If you're interested in a drum that is dynamic yet portable, Drum Brothers smaller Ashikos will give you the quality and versatility you need. Of course, there are a variety of customizing options to choose from: ring colors, plain or trimmed hair-on goat hide head and woods! Wood options include western red cedar or a combination of walnut, birch, and cherry. Our hardwoods come from the Midwest.
You can also build the popular 12"x24" Ashiko drum at a Drum Brothers drum building workshop!
Remember, when choosing a hand drum, the deepness of the bass tone is proportional to the diameter and height of the shell. Click here for tuning instructions.
PRICE

ITEM #

PRICE

ITEM #

8" x 18"

$175.00

LS818


LH1022

12" x 24"

$315.00

14" x 24"

$377.00

Ceremonial Drums
Imagine a deep thunderous sound that can shake the earth and move your body . . . now think of the Drum Brothers Ceremonial Drum.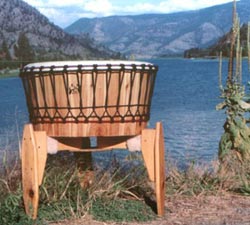 | | | |
| --- | --- | --- |
| SIZE | PRICE | ITEM # |
| 22 inch | $630.00 | CD22 |
| 26 inch | $695.00 | CD26 |
NOTE: Larger drums can be built. Call Drum Brothers to inquire. Lacing diagram included.

Whether exploring sound and rhythm individually, in a community setting or in a percussion ensemble, you will discover that this energizing drum has a resonance and power that penetrates. It can easily "hold down the groove," which is especially important in large group settings.
Made of lightweight western red cedar with a split steer head, this timpani-like drum is tunable so if you're in an area that is humid, you can easily tighten the lacing. Each handcrafted drum comes with a folding stand which is reversible for standing and sitting playing positions. For different tones and attack, we include two leather- and two fleece-handled 16" beaters. And these drums are tunable. Click here for instructions.
Drum Repair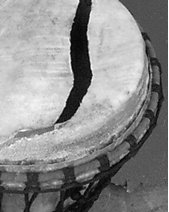 We repair a wide variety of drums. Please visit our Web Store for the cost re-heading and re-stringing a drum, and don't hesitate to contact Tracy Topp directly for specific inquiries.