Workshops, Classes, and Community Events
"If you can walk, you can dance."
"If you can talk, you can sing!"
- African proverb
Community Drum Circles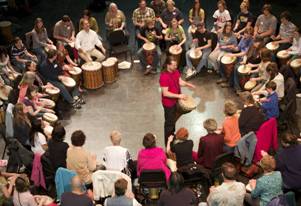 "If you have a heart beat, you have rhythm."
Don't miss this special opportunity to experience the power of rhythm. For over 2 decades , Drum Brothers have been leading drum circles for all ages, celebrating the rhythms of life and the joy of community music-making.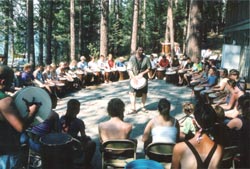 Over the years, they have brought World rhythm and drumming into schools and educational centers for children and adults, they have drummed with trouble youth, disabled people, bereaved children, and cancer survivors, and they have sparked many ongoing community rhythm circles in cities around the Northwest and in Canada.
At a Drum Brothers rhythm event, everyone is welcome and extra drums will be available. In a typical 90 minute circle, Drum Brothers will share some basic rhythm techniques, lead several rounds of drumming (often accompanied with chants and song), and help facilitate the energy of the music.
Hand Drumming Classes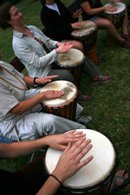 These classes will explore principals of rhythm awareness through body rhythm, call and response drum communication and drum language, technique, and traditional and contemporary rhythms in the Mande style of Mali and Guinea, West Africa.
Extra Drums will be available. Come experience the joy and power of polyrhythm! Matthew Marsolek and Tracy Topp teach beginning, intermediate, and advanced classes each week in Missoula and periodically in other communities around the Northwest. Contact
New Beginning Hand-Drumming Series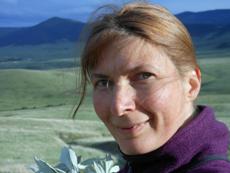 With Tracy Topp of Drum Brothers
When: Tuesday nights at 6:30 pm, beginning October 3rd
Where: Health Options Clinic, 3031 S Russell St in Missoula
Cost: $60 for a 5 week series, $14 for single classes
To register, please contact Tracy at tracy@drumbrothers.com or 406-531-8109.
This class is for new and first time drummers! It will begin from the ground up and will include basic technique for the primary tones of the drum, fun beginning rhythms, ensemble playing, and the fundamentals of rhythm awareness.
"If you have a heart beat, you have rhythm!"
Ongoing Missoula Hand Drumming Classes
With Matthew Marsolek of Drum Brothers
Cost: $60 for a 5 week series, $14 for single classes. To register, please contact Matthew at matthew@drumbrothers.com or 406-531-8109.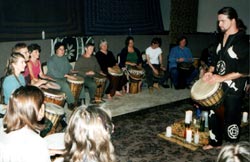 Level 1 - Wednesdays from 7:30 - 8:45 pm
Beginning drummers are welcome and extra drums will be available. Students study the tones and techniques of West African Djembe drumming, the beginning repertoire of rhythms, and the fundamentals of rhythm awareness. "If you have a heart beat, you have rhythm"
This class is by invitation only. Call or email to inquire: 531-8109, matthew@drumbrothers.com
Level 2 - Wednesdays from 6:00 - 7:15 pm
Students should have some previous experience with West African hand drumming, be able to clearly play the tones of a drum, and know a repertoire of beginning rhythms. This class is by invitation only. Call or email to inquire: 531-8109, matthew@drumbrothers.com
Level 3 - Tuesdays from 6:15 - 7:30 pm
Students should be very experienced with West African hand drumming, be able to pick up and play patterns quickly, and know a repertoire of beginning and intermediate rhythms. This class is by invitation only. Call or email to inquire: 531-8109, matthew@drumbrothers.com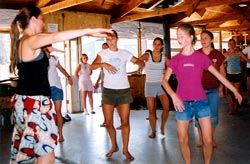 African Dance
With members of Drum Brothers providing the accompanying high energy rhythms. Tracy Topp will teach West African dances in the Mande tradition of Mali and Guinea West Africa.
A dancer since she was three, Tracy has choreography experience and training in many dance styles, including modern, jazz, Middle Eastern, and West African.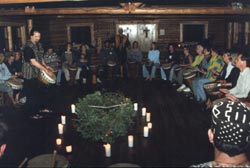 "Just what the doctor ordered. A very warm environment for me to (finally) give voice to my rhythm side." - Jolane Flanigan
Workshops
Please refer to our Calendar for our current workshop schedule! You can also get more information and sign-up through our Store.
A Drum Brothers drum making workshop will include: all the materials and instruction to build a 12" x 24" West African ashiko drum, rhythm and hand drumming classes for all levels, evening drum circles, and instruction on the art of listening, communicating with rhythm, and making music in community.
For a weekend workshop, the task of drum building will be broken up into three separate 3 hour blocks. During the first two blocks, which are on the first day, the materials will be prepared and the drum will be assembled. The last block on the second day, will be for the final tightening of the drum and finishing touches.
The individual drum shells will be pre-made by Drum Brother Dave & Tracy Topp in Arlee, Montana. (Contact us about building other types of drums. We've also presented workshops in Plains Indian frame drum and West African dunun drum making.)
*The ashiko is a conical drum with a clear resonant sound comparable to the djembe of West Africa. It is constructed with a goat skin head, adjustable rope lacing (which tunes the drum), and binding rings that are wrapped with fabric in colors that the builder chooses. Struck with both hands, the ashiko drum is perfect for playing the variety of world rhythms the Drum Brothers teach. It's a dynamic and portable drum with a great sound. The suggested retail price for a 12" x 24" ashiko is $310.
Drum Brothers also present rhythm exploration workshops that do not include drum building. A one to three day rhythm workshop will include 5 hours of daily instruction for all ability levels and the option of an evening rhythm circle.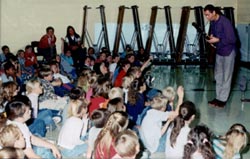 "It was the greatest assembly we've ever had," exclaimed one of my students immediately following the awesome and extraordinary performance by the Drum Brothers.
- Pat Hould, Principle, Lewistown Jr. High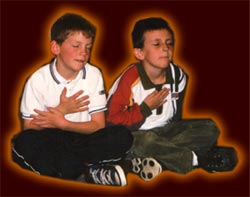 Assemblies
Usually lasting 50 to 60 minutes, an assembly with the Drum Brothers follows a lecture-demonstration-participation format. Assemblies include:
Performances of traditional West African rhythms and original music from the Drum Brothers repertoire.
An introduction to the instruments the group plays and the countries and traditions they come from -- For example, the Australian didgeridoo and West African djembe and doun doun drums.
A discussion of the different sounds of the instruments, drum languages, the communication between instruments, and traditional and contemporary uses.
Teaching some simple clapping rhythms to illustrate the concept of polyrhythm.
If opportunity and space allow, there may be times during an assembly when we'll encourage the audience to dance. This usually depends upon the behavior and attitude of the group, its size and age, and whether the space is conducive.
School Classes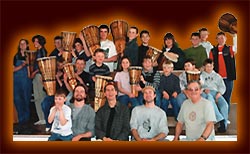 Drum Brothers will supply a limited number of drums and percussion instruments for the students.
With most classes, because of the number of instruments we have available, the size of each class is limited to 25 students of a similar age group.
Students will explore the elements of rhythm by walking, clapping, and speaking simple rhythmic patterns. They will learn basic technique for the primary sounds of a hand-drum and some beginning rhythms. To explore the concepts of polyrhythm and ensemble playing, the group will divide into 3 or more parts, each playing a separate rhythm. If there is extra time the class will be introduced to some of the other accompanying instruments within the Drum Brothers ensemble. These include: didgeridoo, hand bells, frame drums, flutes and other hand percussion.
*Sometimes because of the age or size of the group, we'll have the class time become more of a lecture/demonstration. Drum Brothers will discuss the background, history, and techniques of the instruments and music, and give musical examples.
World Voice & Guitar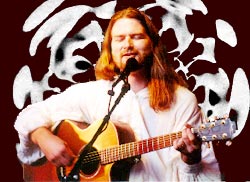 Matthew Marsolek, an experienced voice educator and guitarist, is available to teach voice classes in opening and strengthening the voice, improvisation, harmonic singing, East Indian singing, and other ethnic vocal techniques.
All levels of ability are welcome. "If you can talk, you can sing!"
Matthew is also available for individual and group guitar instruction, presenting classes in guitar technique, theory, improvisation, and a variety of guitar styles including: Jazz, classical, East Indian, and West African.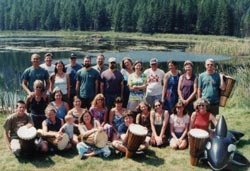 "So much more that just a "drumming event - it was a retreat into community. I came back grounded and peaceful and enthusiastic. Many thanks." - K. O'Conor
Annual Retreats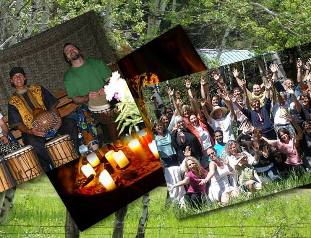 Drum Brothers offer annual 3 to 5 day rhythm retreats throughout the year. Visit our calendar for information on the next one nearest you. You can also get more information and sign-up through our Store.
These special events are filled with daily rhythm classes taught by members of Drum Brothers, song circles, drum building, and African dance classes taught by Tracy Topp. Each evening, we gather together for a community rhythm circle. We also often include a special night of contemplative music-making and Henna designs by artist and dance teacher, Tracy Topp.
All ability levels are welcome. If you haven't touched a drum yet and experienced the power of rhythmic sharing, or felt the freedom of embodied dance, this is your opportunity. The spirit of rhythm invites us to join together and celebrate this life and each precious moment we are given. It's time to get recharged with rhythm and heart felt community!
Participants will be able to register either for rhythm exploration (which includes hand drumming classes for all levels and dance and movement classes) or drum building. Those who register to build a drum will be making a 12"x 24" ashiko drum with a cedar or hardwood shell and a goat skin head in addition to participating in the classes offered.
Location and weather permitting, events will be held out-of-doors whenever possible. As with all of our retreats, participants will be fed tasty gourmet semi-vegetarian cuisine. There will also be free time to enjoy the pristine scenery of the area.
Each retreat is a special opportunity to celebrate the rhythms of life and the connections that develop between people through rhythmic sharing. Rhythmic music has the innate ability to connect diverse groups of people together. Through the layers of rhythm, we can celebrate our individual differences while acknowledging the common pulse that unites us all. Drumming also offers an easy entry into the world of the expressive arts.
We'd be happy to come to your community to facilitate a rhythm retreat. All that is needed is a contact person who's willing to do some leg work, a minimum of 15 participants, and a facility.
We've presented residential and non-residential retreats at retreat centers, schools, community centers, churches, and at private homes and acreages. And we're very willing to craft a custom event to suit your specific needs.