Drum Brothers Spring and Summer Events
Hello Everyone!
We're getting excited for our annual Boulder River Rhythm Retreat, coming up this June 21 - 25 near Big Timber, Montana. Come join Drum Brothers and friends for 3 - 5 days of rhythm, community, and fun! We recommend that you register early to secure your place.
Follow the links to view the details below.

This Spring, In addition to offering regular weekly West African drum classes, Matthew Marsolek and Tracy Topp have been working with 100's of 1st graders in the Missoula school district through Spark! Arts Ignite Learning.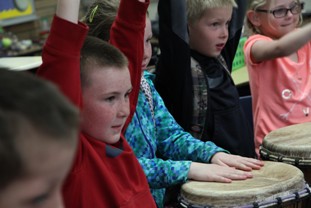 "SPARK! works in collaboration with artists, classroom teachers, university staff, school administration, and volunteers to ensure that the arts are an essential part of every school day. SPARK! is a national partnership site for the Kennedy Center's Any Given Child Initiative, a growing network of communities working to transform learning and ensure access to the arts for every public school student."
In mid June, Drum Brothers are going to be presenting at two children's bereavement camps, Camp Francis near Great Falls and the Good Grief Camp for children in the Flathead Valley. If you know of a child who has lost a close family member and who might benefit from this special supportive community, please follow the links for more information.
The dates are set for our End-of-Summer Rhythm Gathering at Cane Ridge West near Lincoln, Montana. So hold the weekend of September 8 - 10 on your calendar!
Celebrate Your Voice!
As a way to help Get-Out-The-Vote for Montana's special election on May 25th, here is a 2014 re-mix of some music for film which Matthew added vocals to. To view it, just click on the picture or the link below. And feel free to pass it along to your friends. Thank you for watching and participating in our democratic process!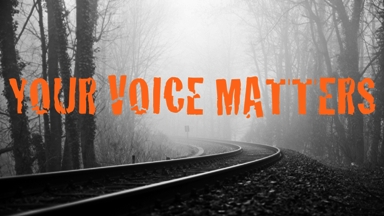 YOUR VOICE MATTERS, WATCH ON YOUTUBE
To view this newsletter on line, click here.
Happy rhythms!
-Matthew Marsolek & Drum Brothers

The Boulder River Rhythm Retreat
South of Big Timber, Montana
June 21 - 25, 2017
Register for 3, 4, or 5 days!
Click here to visit the registration page.
We'd like to invite you to join Drum Brothers and friends for this special 5 day retreat. Our time together will include rhythm classes, song circles, the option to build a drum, and African dance classes. Each evening we'll gather for a community rhythm circle and in the mornings, we'll be treated to a musical wake up. Instructors for the event will be Matthew & Michael Marsolek, Lawrence Duncan, and Tracy Topp of Drum Brothers.
All ability levels are welcome at this event. "If you have a heart beat, you have rhythm". The drum is calling us to come together and celebrate the precious moments of life we've been given. There's nothing like having 5 days to enjoy the company of new friends and to take the rhythms deeper than ever. This is a time to get recharged with rhythm and community!
Participants can register either for rhythm exploration (which includes hand drumming classes for all levels and dance and movement classes) or drum building. Those who choose to build a drum will be making a 12"x 24" ashiko drum with a cedar
or hardwood shell and a goat skin head. These dynamic hand drums are perfect to play the variety of West African rhythms Drum Brothers teach. Drum building registrants will attend the regular class schedule when not assembling the drum.
We'll be staying at beautiful Camp Mimanagish on the Boulder River. The water will be high this time of year and in the evening you can hear the rumbling of the rocks rolling on the river bottom! Weather permitting; we'll meet outside as much as we can. Of course, as with all of our retreats, we'll be fed tasty gourmet cuisine. There will also be free time to enjoy the pristine scenery of the area. For lodging, participants will be bunking together in the many fine cabins available at Camp Mimanagish. There will be separate men's and woman's cabins and designated space for couples and families.
End-of-Summer Rhythm Gathering
September 8 - 10 at Cane Ridge West near Lincoln, Montana
We invite you to join Drum Brothers and friends for a weekend filled with rhythm, fun, and heart-felt community. We're excited to be offering this end-of-summer event at Cane Ridge West again and on a great weekend! Whether you're just beginning to explore the drum or already a seasoned player, join us as we celebrate the joy of community music making and the beauty of summertime in Montana.
Our weekend camp will be held at Cane Ridge West conference and retreat center just east of Lincoln, Montana, and right next to the Blackfoot River. Cane Ridge West has all the necessary comforts: a beautiful log lodge and dining hall, a bath house, bunk houses for indoor lodging, numerous spots for tent camping, RV hook ups, and shaded areas for outdoor classes.
Our time together will be filled with morning song circles, West African hand-drumming classes for all levels, drum-making, African dance, and evening celebration circles around the fire (get ready to drum, dance, and sing). We'll also have some Saturday afternoon free time to relax, hike, or take a dip in the Blackfoot River! Drum-makers will be building a 12"x 24" Ashiko drum. This dynamic hand drum is ideal for playing a variety of world rhythms. Extra drums will be available for new drummers. We will begin our circle with an evening meal at 6:30pm on Friday, Sept. 8th. The gathering will continue until 3pm Sunday, Sept. 10th. Here is the link to the registration page: End-of-Summer Gathering.