Performing Groups
Drum Brothers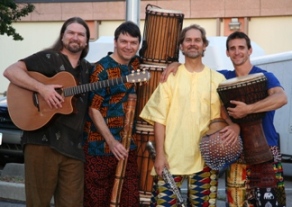 Drum Brothers world percussion ensemble presents high energy performances that celebrate a mix of ethnic and contemporary sounds: West African djembe and dundun drums, Middle Eastern frame drums, didgeridoo, flute and saxophone, acoustic guitar, vocals, and hand percussion.
It's members are Matthew & Michael Marsolek, Lawrence Duncan, & Colin Ruggiero.
Their recording, Remember, features favorite live performance material and 3 cuts with guest artist Abdoul Doumbia from Mali, West Africa.
Experienced educators as well as performers, Drum Brothers teach classes, clinics, and workshops in rhythm exploration, hand drumming, and drum-making in schools and educational centers throughout the U.S. and in Canada.
Matthew Marsolek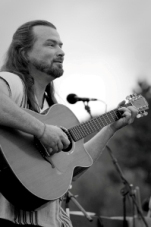 Matthew presents performances, workshops, and groups events in a variety of different styles and settings.
He performs solo as a guitarist, vocalist, and percussionist, as a guest artist featuring his original chamber music, and as a teacher and facilitator of world chant and Kirtan.
From elementary class rooms to university and community settings, Matthew is well known for his engaging and inspiring teaching style. His self-empowering approach to teaching has been the backbone of Drum Brothers education outreach for over 2 decades. He also facilitates team building events to groups and organizations of all walks of life.
As a composer, he's created numerous works for the groups Drum Brothers and Mandir, as well as music for film, theater, and modern dance.
A Musical Dreamtime Journey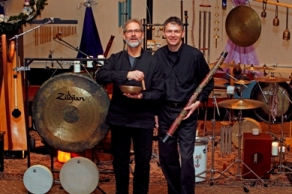 Lawrence Duncan and Michael Marsolek create contemplative music with a variety of instruments from around the world.
These special concert events are without applause, in the round, and by candlelight.
The Dreamtime Journey is an annual celebration of the season of lights and winter solstice with a variety of world instruments and sounds, including: Didgeridoos, Ethnic Flutes, Bassoon, Saxophones, Drums and Percussion Instruments, Harp, Tibetan Bowls, Voices and other musical surprises. For many attendees, these unique concerts have become an annual holiday tradition and a great way to de-stress during the sometimes frenetic holiday season.